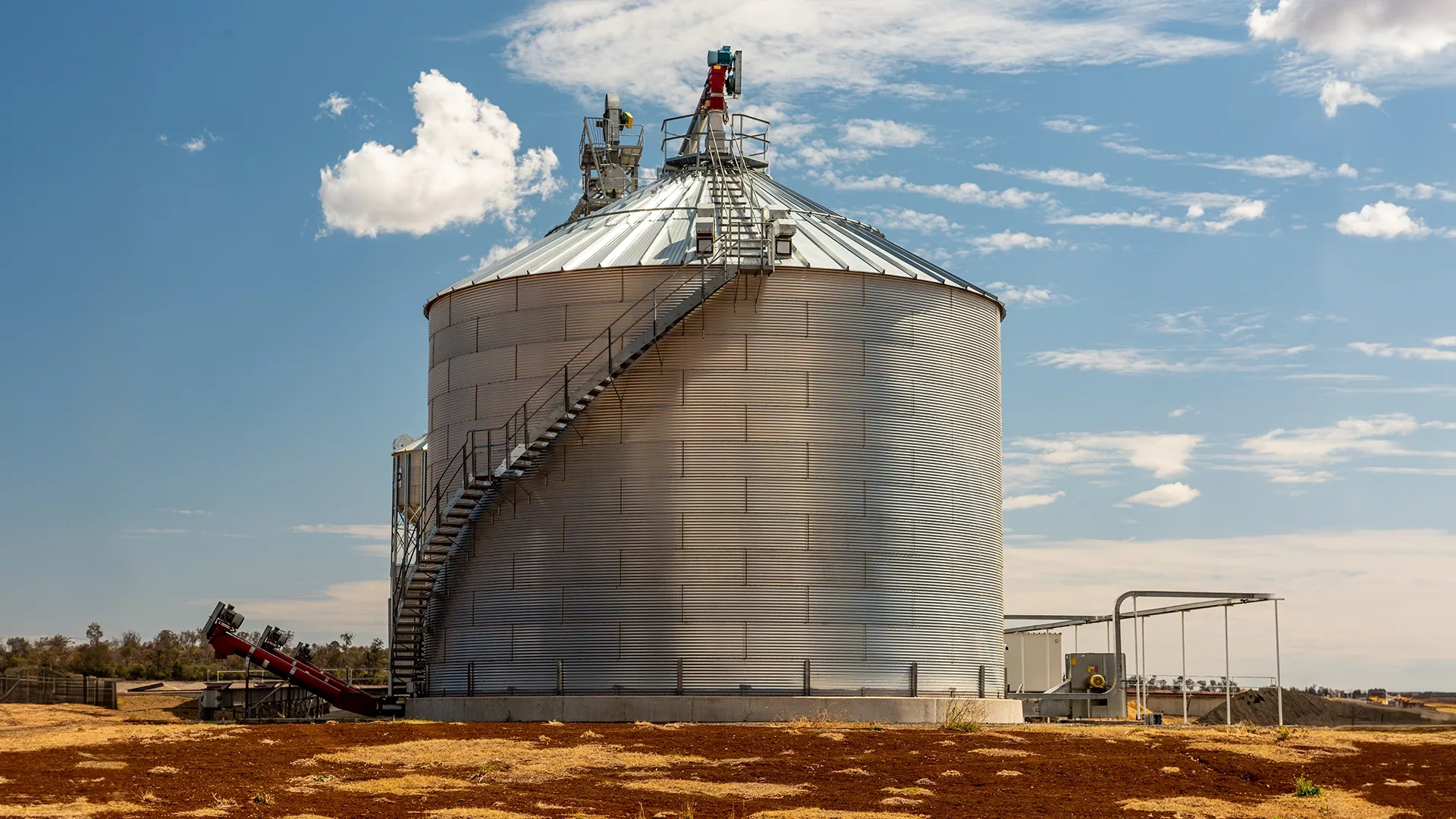 Grain protection storage solutions for on-farm and commercial applications.
Flat Bottom Silos offer effective and economic grain storage solutions for on-farm and large-scale commercial use.
The on-farm silos are designed for the storage of animal feed in livestock, poultry, and pig farms, while the commercial use silos are suitable for all free-flowing cereals including wheat, maize, barley, rapeseed, soya beans etc.
Commercial Hopper Bottom Silos present a range of advantages, including versatility, rapid assembly, and a cost-effective solution per ton. The incorporation of hoppers has been proven as the optimal approach for frequent product unloading cycles, preventing residual material from remaining in the silo and minimizing the reliance on mechanical equipment.
Our silo installations include towers, catwalks, and ladders to ensure a comprehensive and convenient solution. These agricultural silos meet the high degree of quality expected by the EUROCODE standard.

Silo types
Flat bottom silos
Hopper bottom silos
Stiffened

Unstiffened
Applications
Large-scale on-farm
Large-scale commercial
Feedmills
Grain storage facilities
Stockfeed
Fertiliser
Flat bottom silo features
Highly automated "de-coiling" process techniques, ensure fast and accurate production
The cylinder is made from galvanized corrugated steel sheets with external vertical stiffeners
The profiled stiffeners bear the silo's vertical load and have robust bolted splice joint plates, crucial for stiffener design
Sidewall sheets are assembled using high-strength grade 8.8 bolts with a galvanized coating for corrosion protection, along with stainless steel/rubber washers
Strip sealant on both horizontal and vertical joints ensures a perfect seal between sidewall sheets and fixings
Hopper bottom silo features
Hot-dipped galvanised steel provides 3 levels of corrosion resistance
Mushroom-headed bolts ensure maximum cleanliness inside the silo
Smooth wall hopper silos options available for non-free-flowing materials
A support structure for truck loading can be supplied for smaller-diameter silos